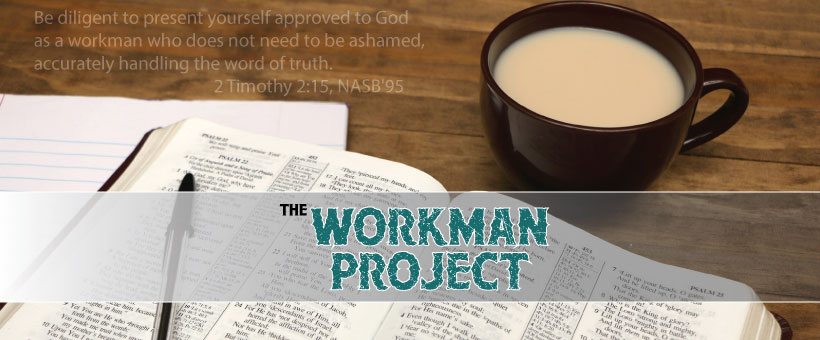 The Workman Project
Created as a topical Bible Study structure with short themed studies from the New Testament. Two 'levels' are provided to assist individuals to meet their Bible study goals. The first is the basic reading plan entitled 'Workman' and the second, 'Workman Plus' goes a little more indepth by providing additional Scripture passages as supplement to the Workman study. We welcome you in joining us as we progress together through this study.
Our Church app provides the most convenient structure for this study as well as other benefits. Get our Church app 'UCCC Connections' HERE.
Here is how to use the UCCC Connections app with the study: First, download the app at the link provided above. Second, open the app and look for the 'Workman' or 'Workman Plus' tabs at the bottom of the app. By opening the tab you are provided the option of reading the daily passages or, selecting the audio option to have the passages read aloud for you. (There is even an option to download the audio passage files for use later.) For additional resources, the 'Sermons' tab provides audio & video recordings of sermons from Union City which address the themed topic. Also, by opening the 'More' tab, and navigating to Chip's blog, additional study reflection articles and study questions are provided when appropriate.
If you choose not to employ the UCCC Connections app, you have the option of following the study listed on this page, on our Facebook page HERE or by contacting the Church office for a copy of the study by email or in print for you to pick up at your convenience.

2017 Workman Project Themed Studies
Christian Mission Week #5 (April 23-29)
Sunday: Ephesians 4:15, Acts 17:16-34
Monday: Ephesians 4:15, 2 Corinthians 5:1-11, Acts 19:8-21
Tuesday: Ephesians 4:15, 2 Corinthians 5:14-21, Ephesians 4:1-16
Wednesday: Ephesians 4:15, 2 Corinthians 6:1-10, Ephesians 4:17-32
Thursday: Ephesians 4:15, 2 Corinthians 8:1-15, Ephesians 5:1-16
Friday: Ephesians 4:15, Galatians 3:1-14, Ephesians 6:10-24
Saturday: 1 Corinthians 11:3, 1 Timothy 2:9-15
Workman Plus Reading
Sunday: 1 Corinthians 1:10-17, 2 Corinthians 7:6-16
Monday: 1 Corinthians 1:18-31, Romans 2:1-8
Tuesday: James 3:1-12, Ephesians 3:8-21
Wednesday: James 3:13-18, James 1:19-27
Thursday: 1 Peter 1:13-25, James 2:14-26
Friday: 1 Peter 4:1-11, Jude 1:17-25
Saturday:1 Peter 3:1-17, Ephesians 5:22-33
Reflection for April 23-29
Sunday: Paul's missionary journeys took him to a number of interesting places, within which he met people of varied cultures. Upon arriving in any city, Paul would go to the local Jewish synagogue (if there was one) and reason with the Jewish people about Christ. Another practice Paul held was to engage the people concerning their cultural practices as they compared to Christian faith. From Paul's methods, what can we learn and is it possible to implement these today?

Monday: The Gospel of Christ calls us to examine what we know in the world (which is temporal) and compare it to what Christ offers. Although the promises of Christ are eternal, why would someone choose the world over Christ? What is a promise provided for believers today which makes following Christ, and facing difficulty, so worthwhile?

Tuesday: In Ephesians 4, Paul addresses the topic of unity. In the passage, he emphasizes the unititing power of faith, and he specifically mentions 7 'ones' which are essential to believe in order to be united in faith. What are these 7 'ones' and how do they unite?

Wednesday: In 2 Corinthians 6, Paul, once again, contrasts the temporal things of the world against the eternal things promised in Christ. Perhaps the Holy Spirit urged Paul to write these reminders for us knowing the human nature of holding onto the things we see, rather than walking by faith. What things do you value in the world? Could these things fall within the temporal category or the eternal category of which Paul speaks?

Thursday: Paul urges believers to 'imitate Christ' in the way we live. In what manner does he say our lives should imitate Christ? We mature in our faith and become more productive in our service when we can review our life and prioritize the qualities God most values. In what ways are you making the most of your time for God?

Friday: Galatians 3 provides another priority check for believers. Some of the Galatians Christians were caught up in thinking they earned God's blessing by what they did. In what ways do you serve Christ which are motivated out of nothing other than honoring Him as Lord?

Saturday: Godliness is one of the greatest character traits or attributes of a Christian. In what ways do you reveal godliness in your life? Humility is difficult to attain and preserve. How does serving others assist us to mature in our humility?
Christian Mission Week #4 (April 16-22)
Sunday: Romans 6:9, Acts 1:1-8, Romans 8:28-30
Monday: Acts 3:19, Acts 2:14-21, Acts 11:19-30
Tuesday: Acts 3:19, Acts 2:22-28, Acts 13:1-12
Wednesday: Acts 3:19, Acts 2:29-36, Acts 13:44-52
Thursday: Acts 3:19, Acts 2:37-47, Acts 14:1-7
Friday: Acts 3:19, Acts 3:11-26, Acts 15:36-41
Saturday: Acts 3:19, Acts 8:4-13, Acts 16:1-13
Workman Plus Week #4
Sunday: 1 Corinthians 15:50-58, Acts 2:22-36
Monday: Acts 16:22-40, Acts 17:1-9
Tuesday: Acts 17:10-15, Acts 17:16-34
Wednesday: Acts 18:1-11, Acts 18:23-28
Thursday: Acts 20:13-16, Acts 20:17-38
Friday: Acts 21:1-14, Acts 28:1-10
Saturday: Philippians 1:12-20, 1 Thessalonians 2:1-20
Workman Reflection Week #4
Sunday: Jesus' disciples thought He would establish an earthly, politically based Kingdom, but
Jesus continued to explain His kingdom as Spiritual. Christ's Kingdom is the Church! How is the Church like a kingdom, and how is Jesus like a king?

Monday: In each sermon found in Acts, there is a simliar message... repent and be restored to God. Is it possible for a person to be restored without repentance? How does a person show their repentance to God? Christianity requires repentance in order to be obedient, how can we show others the need for repentance today?

Tuesday: At Pentecost, Peter & the Apostles preached a simple message which highlighted the death of Jesus, and the need for mankind to repent & be restored to God. What two things did Peter say a person would receive from God upon repentance?

Wednesday: In Acts 13, Paul had a large crowd gather to hear him speak. This crowd consisted of a group of people who were ignored by the Jewish people. At the heart of the Gospel is hope for those who are forgotten or considered less important. How can you communicate Christ's love for the down-trodden to people within your influence & reach today?

Thursday: Luke's history record in Acts tells of a number of times Paul and other Christians were mistreated for sharing Christ's Gospel. What can we learn from their determination today? In spite of their suffering and hardship, many people continued to become Christians. In what way can our suffering or hardships serve to influence others to believe in Jesus?

Friday: Paul and his companions went to many foreign places on missionary journies to share the Gospel. You may never go on a missionary journey, like Paul, but you can still be a missionary. In what ways can you still be a missionary?

Saturday: Paul wrote to the Christians in Thessalonica and his words help us understand why he endured suffering and hardship. In Paul's words, what made his hardships and sufferings worthwhile? Paul also spoke of a joy & crown... to what is Paul referring?
Christian Mission Week #3 (April 9-15)
(The first passage each day is intended to be a memory passage.)
Day 1: Romans 6:9, Matthew 28:1-10
Day 2: Romans 6:9, Mark 16:1-13, Romans 4:23-25, 2 Corinthians 5:14-17
Day 3: Romans 6:9, Luke 24:1-12, Romans 1:1-4, Matthew 20:17-19
Day 4: Romans 6:9, John 20:1-10, Revelation 1:17-18
Day 5: Romans 6:9, John 20:11-18, Philippians 3:8-11
Day 6: Romans 6:9, John 20:19-29, Philippians 3:20-21
Day 7: Romans 6:9, Acts 1:1-8, Romans 8:28-30
Workman Plus Week #3
Day 1: Luke 24:13-35, Acts 4:1-12
Day 2: Luke 24:36-49, Romans 6:1-9
Day 3: 1 Corinthians 15:1-19, Colossians 2:8-14
Day 4: 1 Corinthians 15:20-28, Colossians 3:1-4
Day 5: 1 Corinthians 15:29-38, Ephesians 2:1-7
Day 6: 1 Corinthians 15:39-49, 1 Thessalonians 4:13-18
Day 7: 1 Corinthians 15:50-58, Acts 2:22-36
Workman Reflection Week #3
Day 1: Skeptics claim there is no credible evidence for the resurrection of Jesus, yet we have eyewitness testimony which includes large groups of witnesses to the same appearing. Within the first 15 verses of Matthew 28, we read of the two Marys finding the tomb empty and having a conversation with the Angel who was at the tomb. In addition to this we see the conspiracy of the Jewish leadership to pay off the guards. What other evidences of Jesus' resurrection can be shown from New Testament passages.
Day 2: In Mark's testimony, as the women traveled to the tomb they talked about how they would manage to move the heavy stone from its entrance. However, upon arrival at the tomb they found the entrance open and the stone rolled away. No further details are provided, other than an angel seated inside the tomb... who do you think removed the stone, and why?
Day 3: In Matthew 20:17-19 Jesus told His disciples specific details about what would occur in Jerusalem. Old Testament prophets were given messages from God which gave details about coming events and the purpose of such prophecy was to show God's plan and to emphasize God is all powerful. How did Jesus' prophecy about His death reveal the power & plan of God?
Day 4: John 20 tells of the discovery of the empty tomb. Peter and John (the disciple Jesus loved) ran to the tomb after the women told them Jesus' body was not there. What did they discover? To discover the significance of what they found, read John 19:38-40.
Day 5: Mary had an encounter with Jesus following His resurrection in John 20:11-18. At first, Mary was so overwhelmed in her grief she did not recognize Jesus. How did Jesus convince her He had risen? There should be great comfort for believers today that Jesus loves us enough to recognize each of us by name.
Day 6: Paul explains the benefit of Jesus' resurrection for all believers in Philippians 3:20-21. According to Paul, we await something Jesus will do for us; what will Jesus do for us?
Day 7: According to Paul in Romans 8:29, God's plan for believers has always been for us to be conformed to the image of His Son, Jesus. What does it mean to be conformed to the image of Jesus? Will others be able to know, if so... how?
Christian Mission Week #2 (April 2-8)
(The first passage each day is intended to be a memory passage.)
Day 1: Romans 5:8, John 1:6-18
Day 2: Romans 5:8, Colossians 1:19-23, Ephesians 2:1-10, Hebrews 2:5-8
Day 3: Romans 5:8, Hebrews 2:9-10, 1 Peter 2:21-25, Matthew 17:1-13
Day 4: Romans 5:8, Hebrews 2:11-18, 2 Peter 1:16-21, Matthew 8:18-27
Day 5: Romans 5:8, Hebrews 9:24-28, Luke 19:1-10, John 12:27-34
Day 6: Romans 5:8, Hebrews 10:1-10, Luke 19:28-38, John 12:35-43
Day 7: Romans 5:8, Hebrews 10:19-25, John 12:44-50
Workman Plus Week #2
Day 1: Acts 9:1-9, 2 Corinthians 11:26-33
Day 2: Acts 9:10-19, Galatians 1:11-24
Day 3: Acts 9:19-31, Galatians 2:1-10
Day 4: Acts 22:1-16, Romans 1:1-7
Day 5: Acts 13:1-12, Romans 1:8-17
Day 6: Acts 14:1-10, 1 Corinthians 1:1-9
Day 7: Acts 14:21-28, Philippians 1:1-14
Workman Reflection Week #2
Day 1: In 2 Corinthians 11 the Apostle Paul mentions several hardships he has endured; what would possibly motivate Paul to suffer such difficulties? Paul mentions his sufferings and then says he will only boast in his weakness... to what weakness does he refer and why would he boast of weakness?
Day 2: In the first chapter of his letter to the Galatian Church, Paul addressed some men who are 'perverting the Gospel', then he defended his own ministry by saying he received his Gospel in a special way. From whom did Paul receive the Gospel message and in what way did he receive it? How does this provide confidence in the reliability of his message for Christians today?
Day 3: Paul retold his interaction with some of the Apostles in Jerusalem and concluded with their approval, stating they recognized his being entrusted with the Gospel. To whom was Paul entrusted as a group to receive the Gospel he preached? According to Luke's account in Acts 9:19-31, the early Christians were not accepting of Paul... why?
Day 4: Paul's conversion to Christian faith was difficult to accept among fellow Christians. One Christian man, Ananias, obeyed The Lord by sharing with Paul (Saul) what he needed to do in order to be saved. What can be learned from Ananias' example? Sometimes, people who seem most opposed to faith in Jesus are actually seeking answers to serious faith questions. Is there are friend or acquaintance in your life to whom you could reach out and share your faith? Following his conversion, Paul was known to establish a large number of Churches in cities & towns throughout the Roman Empire... perhaps the person you reach for Christ could have a significant impact in helping other people become Christians.
Day 5: The Church in Rome was very important to Paul and he loved the Christians there very much. Due to his missionary travels, he was looking forward to a coming time when he could visit with the Church there. Paul prays for the Church daily and looks forward to the encouragement they will share when together. In a similar manner, Christians today share encouragement in faith while we assemble together. How important is the assembly of Christians? Considering your interaction with other Christians, is there a special way you encourage others in their faith? How can you increase in encouraging others?
Day 6: In his first letter to the Church in Corinth, Paul mentioned the faith of the Corinthians in Christ was 'confirmed'. In what ways could the faith of the Christians in Corinth be 'confirmed' or shown? In what way is our faith in Christ 'confirmed' today? While in Lystra (Acts 14:1-10) Paul did something very special which showed he was an Apostle... what did he do?
Day 7: In Philippians 1, Paul said his imprisonment has worked to benefit the Gospel... how is it possible for such a great difficulty to benefit the Gospel? Is it possible God can create a positive result from the difficult circumstances of our life? When we are faced with difficulties it is very beneficial to have the same perspective & outlook Paul had in his circumstances of suffering.

Christian Missions Week #1 (The first passage each day is intended to be a memory passage.)
Day 1: Mark 16:15–16, Matthew 9:9-13, John 3:14-21
Day 2: Mark 16:15–16, Matthew 28:16–20, Acts 2:1-13, Mark 2:1-12
Day 3: Mark 16:15–16, Matthew 13:47–52, Acts 2:14-24, Luke 8:11–15
Day 4: Mark 16:15–16, 1 Peter 4:1–5, Acts 2:25-36, Matthew 19:13–15
Day 5: Mark 16:15–16, Luke 8:4–10, Acts 2:37-47, Titus 2:1–8
Day 6: Mark 16:15–16, 2 Timothy 2:1–2, 1 Corinthians 4:14-16, 1 Corinthians 11:1, Philippians 3:17
Day 7: Mark 16:15–16, Luke 5:27-32, John 3:1-10, Romans 6:1-7
Workman Plus Week #1
Day 1: Matthew 10:1-15, Mark 6:7-13
Day 2: Matthew 10:16-23, Luke 9:1-6
Day 3: Matthew 10:24-39, Luke 10:1-16
Day 4: Matthew 10:40-42, Luke 10:17-24
Day 5: Matthew 16:21-28, Matthew 18:1-6
Day 6: Matthew 18:12-14, Luke 9:57-62
Day 7: Matthew 19:27-30, Luke 9:18-27
Workman Reflection Week #1
Day 1: Mark's record of the 'Great Commission' cites Jesus command to "Go into all the world and preach the Gospel to all creation." How do we know Jesus wasn't just commanding His disciples alone to do this? What does it mean to go into 'all the world'?
Day 2: Matthew's Gospel, as well as Mark's account, mention baptism in conversion & disciple making. Both directly quote Jesus and reveal baptism is a part of the disciple making process. Who can baptize a person who wishes to become a Christian?
Day 3: When Jesus said the Kingdom was like a dragnet, what is He saying? What does the rest of that passage in Matthew 13:47-52 reveal about the types of fish caught in the net?
Day 4: 1 Peter 4:1-5 speaks of a former way of life (before we became a Christian) and the response of some people to our new life. From this passage, what should a Christian expect from those outside Christian faith? What does this passage cite as the reason for being treated so harshly by others?
Day 5: What did the seed represent in the parable Jesus told? What do the various soil types represent? The 'good soil' is representative of what type of person?
Day 6: Paul said (1 Corinthians 4:14-16) he was the father of the Corinthian Christians... what did he mean by that? Why should the Corinthians Christians imitate the Apostle Paul?
Day 7: According to Luke 5:27-32, to whom did Jesus come to call to repentance? For Christians involved in making Disciples today, how should we be encouraged by what Jesus said in this passage?